Ibis ★★★ Ulitsa Bakhrushina, Moscow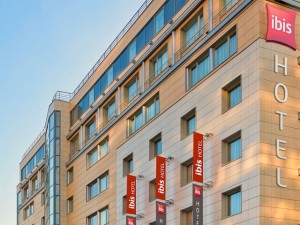 Ibis ***
The Hotel Ibis Moscow Bakhrushin's Centre is located in the administrative and historic heart of the capital, a few minutes' walk from Pavletskaya metro station and the aero express train to Domodedovo Airport. The Paveletskaya Plaza Business Centre, the Moscow Human Rights Centre and the Riverside Towers business complex are located next to the hotel.
Ibis provides 190 double rooms, including five rooms for guests with limited capacities, excellent soundproofing, individual climate control, personal safes, work desks and free Wi-Fi. All rooms have modern ergonomic furniture, originally designed interiors and separate bathrooms combined with toilet facilities and a collection of bath and cosmetic accessories.
The unique, innovative beds designed with SweetBed technology especially for the Ibis network will be a pleasant surprise for hotel guests. The "15 minute rule" is also in force at Ibis: any issue that a guest may have will be resolved in no more than 15 minutes after notifying the hotel.
The hotel houses the restaurant Ibis Kitchen offering international cuisine, where diners will find a menu that will satisfy any taste. They can relax or hold informal meetings in a peaceful atmosphere in the bar, where they can enjoy various drinks, hot and cold appetizers and original deserts. The hotel also has a twenty-four hour snack bar.